Office for lease in Phu Nhuan District (50m2 - Nguyen Van Troi street)
5
trên
5
điểm, bởi
1
đánh giá
Amenities
Reception service
Energy-saving air conditioner
Large well-ventilated windows
Affluent neighborhood
Parking: Car and Bike
Banks and Gas station (50m)
Malls and Supermarket (700m)
Security 24/7
Daily cleaning service
Regular maintenance during use
Facilities
Generator
Low-cost water & electricity supply system.
High-speed and stable Internet
Modern elevator
Surveillance camera
Spacious and clean basement
Smart and energy-saving lighting system
Standard fire protection system
Bare shell office
Over View
Address: quan Phu Nhuan, Ho Chi Minh
Type of Property: Office
Gross Area/Land Area: 50 m²
Net Area/Carpet Area: 50 m²
View: Northeast
Furniture: Lighting system, air conditioner
Property Feature
Office for lease in Phu Nhuan District (50m2)
1. Highlighted Features
Location of the office: at A Space Office Building Phu Nhuan, 121 Bis Nguyen Van Troi street, Ward 12, Phu Nhuan District. A Space Building is located on the Nguyen Van Troi - Tran Huy Lieu intersection, convenient for making a U-turn in the street and movement between nearby center areas such as District 1, District 3 and Tan Son Nhat Airport (within 5 or 10 minutes).
Near various external facilities: restaurants, eating houses, cafes (only 100m), malls and convenience stores (within a radius of 300m), gas station. (200m), the People's Committee of Phu Nhuan District (500m), sub-department of tax of Phu Nhuan District (300m), Phu Nhuan notary office (400m)...
Financial transaction activities at A Space are extremely convenient since it is near to many large and prestigious banks. Techcombank (75m), DongA Bank (150m), SHB (180m).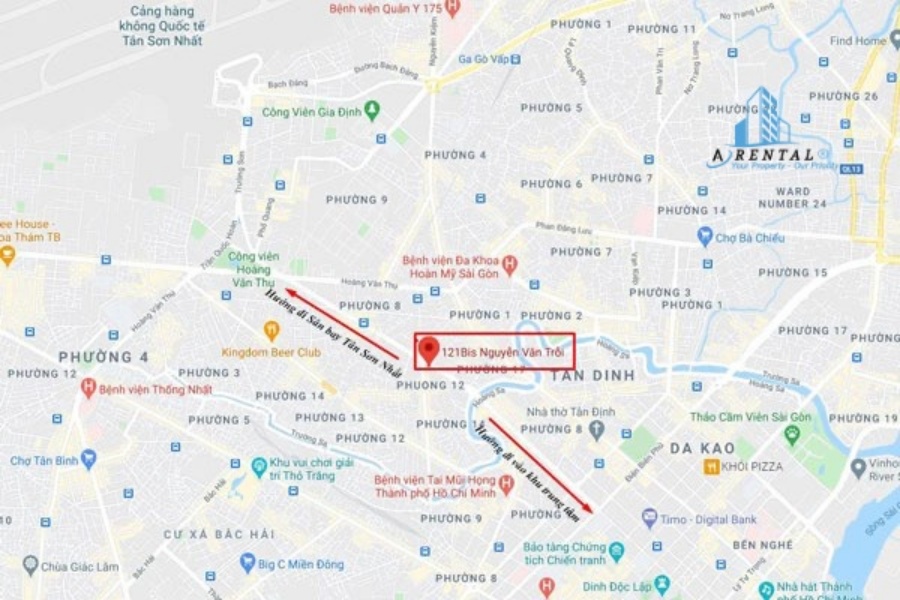 Location of the building on Google Map.
2. More information about A Space Phu Nhuan
Building scale: with a total area of over 1100m2, A space office building offers a variety of areas (12m2 - 200m2) as well as various office types (Traditional office, Shared office, Coworking space, Virtual office). Here at A Space, you can rest assured that we accompany and support you throughout the course of working.
Various lease options: 25m2, 85m2, 110m2, 220m2 ...
The building is fully equipped with standard equipment and has amenities as a professional office:

Spacious and high-speed elevators.
Standard fire protection system.
Brand new Toshiba air conditioners.
Ensuring sufficient light when working at the building.
Spacious and secured basement.
24/7 security guards on duty
Surveillance cameras at communal spaces.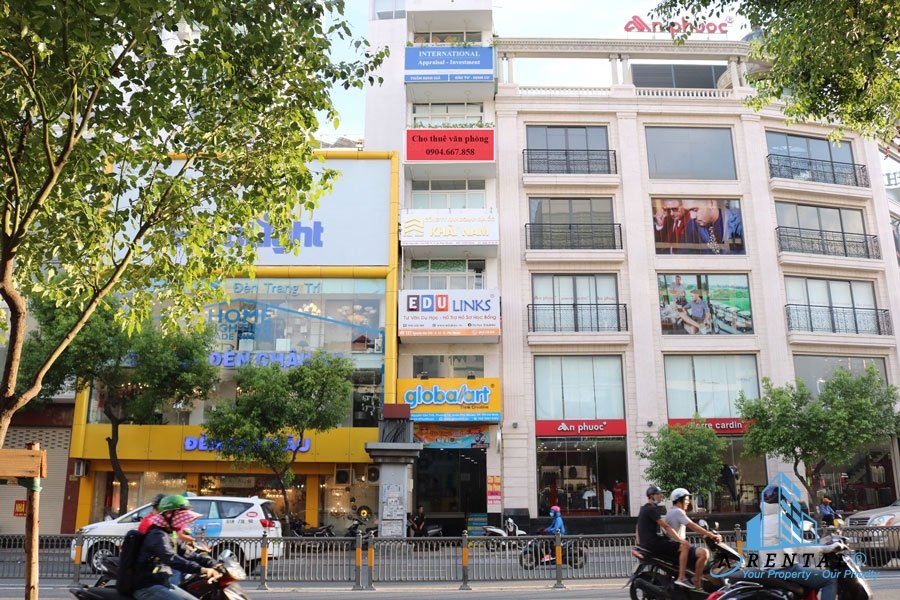 A Space Office Building - Nguyen Van Troi St.
Best Price: $13/m2 (not including management fee: $2/m2)
High-end facilities: The building is equipped with a smart and energy-saving lighting system, modern elevators, 1 spacious basement and 1 backyard for parking, escape stairs and corridors, stable water & electricity supply system, luxurious modern and luxurious lounge, and rooftop outdoor venue.
Handover conditions: The office is handed over with wall-mounted furniture, including air conditioners, luxurious tiled floors, plastered ceiling, white walls, tempered glass windows, private power meter.
3. Information on the office market for rent in Phu Nhuan District
The office market for rent in HCMC, especially Phu Nhuan District, has always been drawing attention from many investors and business owners. Setting a representative office, working office, or headquarter here is extremely convenient for tenants due to various nearby facilities and fast traffic location.
Below is some useful information on the office market. Hopefully, it may help you make your best decision.
3.1 Best roads to rent an office
Phu Nhuan district has many main roads, but the rental rates are flexible depending on office segments, types of building and area.
Here are the best roads to rent an office in Phu Nhuan District (and of course, at an affordable price).
Nguyen Van Troi: This is an important street of Phu Nhuan District, directly connecting downtown areas with Tan Son Nhat International Airport.
Hoang Van Thu and Phan Dang Luu: these two are linked together to form a main road connecting Tan Binh and Phu Nhuan District with District 1 and Binh Thanh District.

Best roads to rent an office in Phu Nhuan District
3.2 The average office leasing rates in Phu Nhuan District
Subject to the office segment and internal facilities, the rental rates are varied. What is more, the rent is usually quoted in $/m2 or VND/m2 plus other costs like management fee, VAT ...
The rates of Class A office building range from $35-$60/m2.
The rates of Class A office building range from $22-$35/m2.
The rates of Class C office building range from $15-$22/m2.
3.3 Step-by-step guide to quickly rent an office
Step 1: Carefully Planning.
Determine your requirements: location, area, budget fit …
Determine when you move-in
Other special requirements: assisting set-up office service ...
Step 2: Choosing support units.
You can choose to work with brokers or work directly with the building manager. But it is advisable to work with the building manager because you may negotiate the rental price or get more support.
Step 3: consultation, comparison and decision-making.
After the discussions with other parties, you will have more options and it is easier to make a comparison and make a good decision.
Following these steps will help you to quickly choose a suitable office without consuming much of your precious time.
Arental.vn - the most prestigious company management, operator, rental office company in HCMC.
Contact the Building Manager at 0904 667 858 to get more support.

Our Agents

Đoàn Trọng Tuấn