Coworking space in District 2 (have private room for 6 - 8 people)
5
trên
5
điểm, bởi
19
đánh giá
Amenities
Reception services
Energy-saving air conditioner
Large well-ventilated windows
Affluent neighborhood
View Landmark
View Residential Area
Parking: car and bike
Banks and Gas station (50m)
Malls and Supermarket (700m)
Daily cleaning service
Regular maintenance during use

Facilities
Security 24/7
Generator
Low-cost water & electricity supply system.
High-speed and stable Internet
Modern elevator
Surveillance camera
Spacious and clean basement
Smart and energy-saving lighting system
Standard fire protection system
Bare shell office

Over View
Type of Property: Co-working Space
Gross Area/Land Area: 16 m²
Net Area/Carpet Area: 16 m²
View: North
Furniture: desks, chairs, filing cabinets, air conditioners, lighting system
Property Feature
Coworking space in District 2 (suitable for 6 - 8 people)
Coworking space is one of the most favorable office choices among many small and medium enterprises (SMEs) and startups. The reason is, it not only meets the demand for saving initial investment cost, set-up time, and maintenance cost but also enables businesses to enjoy a wide range of office amenities and complete privacy businesses. With an area of 12-20m2 per room, Our Coworking Space is a cost-saving and comfortable workplace, great for 6-8 people.
A Space Office Building (at 1B, Road No. 30, Tran Nao St., Binh An Ward, District 2, HCMC) provides various services, such as virtual office, coworking space, hourly meeting room for lease, and serviced office, with the motto "minimum price, maximum efficiency — on-budget, on-demand". You will be able to enjoy the best services at A Space.
1. Prime location:
- 5 minutes of driving from Mai Chi Tho boulevard
- 5 minutes of driving from Hanoi highway
- 3 minutes of walking from the bus station.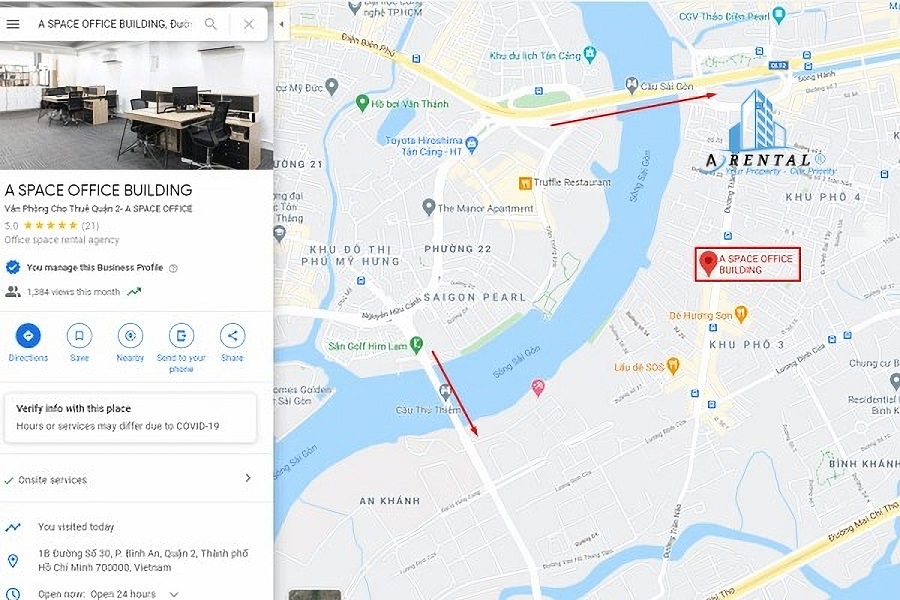 Location of the Building on Google Map
2. Various external facilities
A Space office building, district 2, offers easy access to nearby facilities, malls, restaurants:
Only 200m from restaurants: Lang Nuong Nam Bo, Bien Rang Seafood...
Within 500m from shopping centers and convenience stores: The Gioi Di Dong, Bach Hoa Xanh, Circle K, Ministop.
200m from the gas station.
Financial transactions at A Space are extremely convenient since it is near to many prestigious banks:
Just 160m from ACB bank
Just 300m from VIB bank
Just 400m from Vietinbank, Agribank, and Saccombank.
3. More information about A Space Building
Address: at 1B, Road No. 30 - Tran Nao St., Binh An Ward, District 2. A Space Building located adjacent to Tran Nao Street - the arterial road of East Saigon connected with other central areas only in a few minutes of traveling.
Various office sizes: 12-200m2
Project Scale: with a total area of over 1100m2, A Space offers a variety of areas (from 12m2 - 200m2), as well as various office types (traditional office, coworking space, serviced office, and virtual office).
Number of stories: 4 floors, 1 ground floor, and 1 basement
Time put into operation: August 2020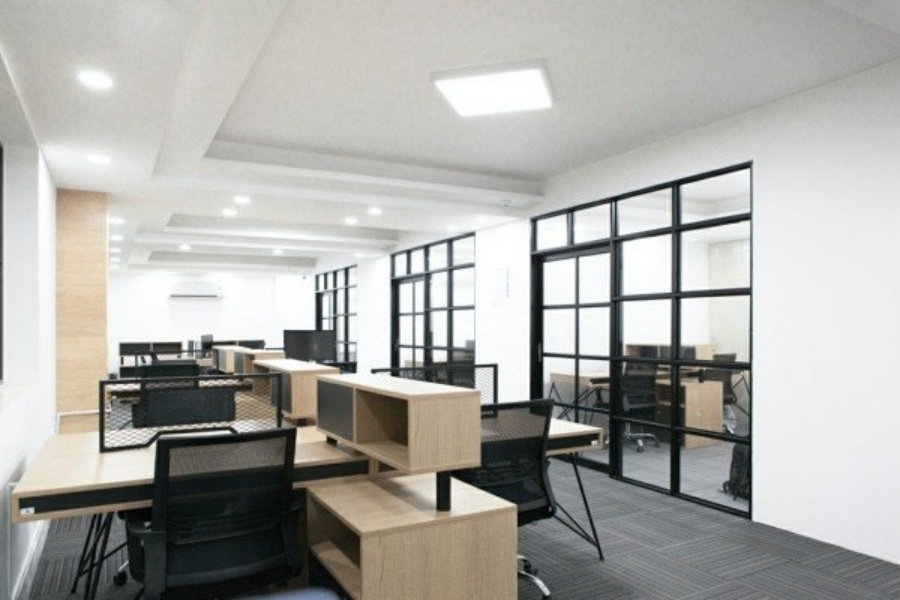 Coworking space at A Space
4. High-class internal facilities and amenities at the building
The building is fully equipped with standard equipment of a high-end office:
High-speed elevator
Standard fire protection system.
Brand new Toshiba air conditioners.
Smart and energy-saving lighting system.
Spacious and secured basement.
Security 24/7
Complimentary refreshments at the pantry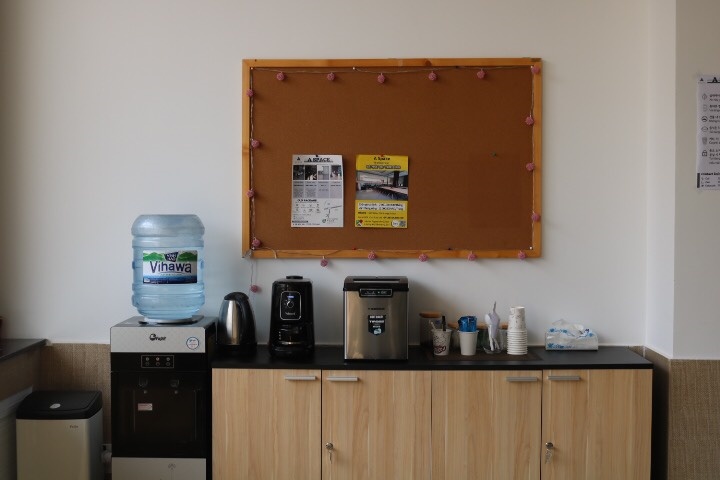 Complimentary refreshments at the Pantry
5. Price and payment method
On-site payment at ground floor.
Flexible price: From VND 12 million/month
Deposit: From 0 - 6 months (depending on the lease period)
Payment: Once every 3 months
Here at A Space Building, you will never be short of options and save rental costs, compared to the market price. Besides, our customer care agents are always willing to support you if you need any further assistance. You can rest assured that we accompany and support you throughout the course of working.

GET IN TOUCH. We're here to help
Hotline 0904.667. 858
Our Agents

Đoàn Trọng Tuấn
More Properties co-working space