Office for lease in Phu Nhuan District (80m2 - Nguyen Van Troi street)
5
trên
5
điểm, bởi
2
đánh giá
Amenities
Reception service
Energy-saving air conditioner
Large well-ventilated windows
Affluent neighborhood
Parking: Car and Bike
Banks and Gas station (50m)
Malls and Supermarket (700m)
Security 24/7
Daily cleaning service
Regular maintenance during use
Facilities
Generator
Low-cost water & electricity supply system.
High-speed and stable Internet
Modern elevator
Surveillance camera
Spacious and clean basement
Smart and energy-saving lighting system
Standard fire protection system
Bare shell office
Over View
Address: quan Phu Nhuan, Ho Chi Minh
Type of Property: Office
Gross Area/Land Area: 80 m²
Net Area/Carpet Area: 80 m²
Balcony: 1
Furniture: Lighting system, air conditioner
Property Feature
Office for lease in Phu Nhuan District (80m2)
1. Highlighted Features
Prime Location: at 121 Bis, Nguyen Van Troi St., Ward 12, Phu Nhuan District. A Space Building is located on the Nguyen Van Troi - Tran Huy Lieu intersection, convenient for making a U-turn in the street and movement between nearby center areas such as District 1, District 3, and Tan Son Nhat Airport (within 5 or 10 minutes)
Location convenient to banks, such as Techcombank, ACB, BIDV, the People's Committee of Phu Nhuan District (less than 300m), Public Security Agency of Phu Nhuan District which ensures security when working and moving within this area.
Wide building line and having an effective drainage system, ensuring the street not to be submerged during pouring days.
Various external facilities: Near An Sinh hospital (300m), sub-department of tax of Phu Nhuan district (250m), large banks, convenient stores...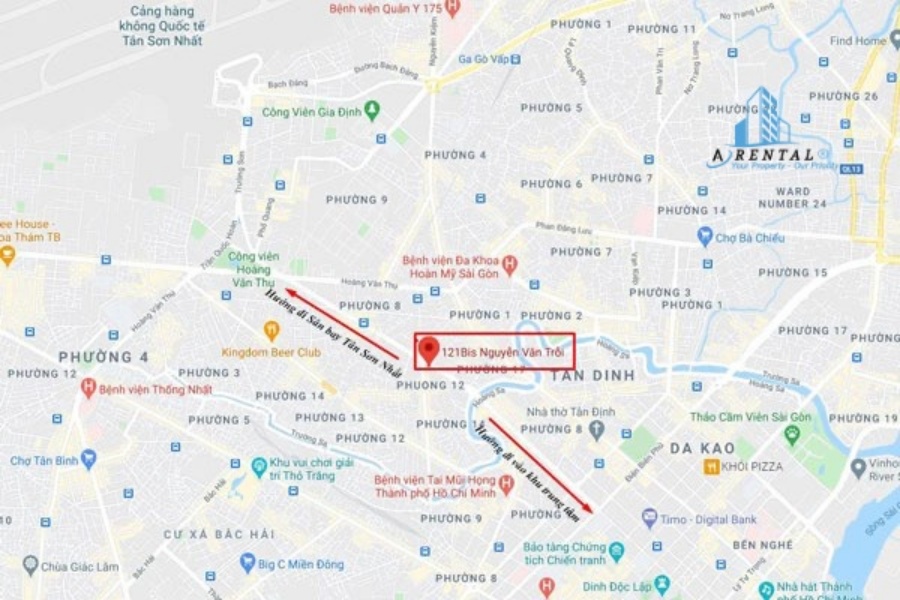 The building location is on Nguyen Van Troi main street, connecting center areas and Tan Son Nhat Airport.
2. Detailed information about the office
Building scale: with a total area of over 1100m2, A space office building offers a variety of areas (12m2 - 200m2) as well as various office types (Traditional office, Shared office, Coworking space, Virtual office). Here at A Space, you can rest assured that we accompany and support you throughout the course of working.
Building conditions: in mint condition

Time put into operation: in the year 2020

Internal facilities:

Energy-saving lighting system
Modern elevator inspected for safety and maintained periodically.
Spacious basement
Escape stairs and corridors
Stable Internet access, water, and electricity supply system.
Standard air conditioners

Amenities:

With a modern and luxurious design, A Space brings a youthful, energetic and inspirational workspace.
Clean and spacious bathrooms on each floor

Detailed information about the office:

Office for lease at A Space Phu Nhuan (121 Bis Nguyen Van Troi street, Ward 12, Phu Nhuan District)
Location: The office is on floor 7
Furniture: Carpets, curtains, large capacity air conditioners.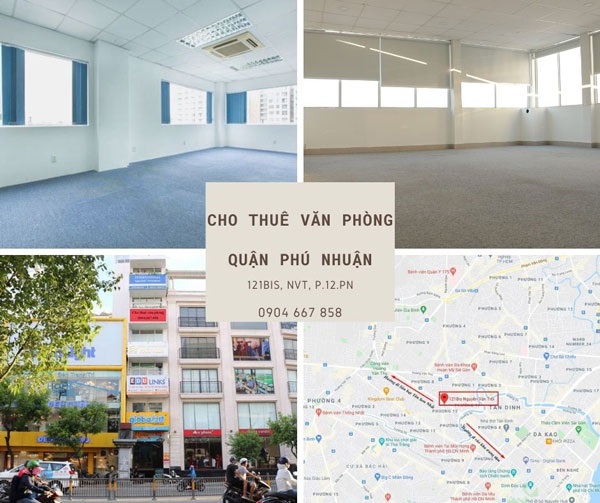 Images of the office
3. Price and payment method
Rental price: $13/m2 (not including management fee: $2/m2, VAT).
Payment method:

Deposit: 3 months
Payment: 1-3 months/time
Free refreshments and maintenance
4. Handover conditions
The office is handed over with wall-mounted furniture, including air conditioners, carpets, plastered ceilings, white walls, tempered glass windows, private power meter.

Current conditions of the office when handing over.
5. How to accurately evaluate the quality of an office for lease in Phu Nhuan District
To correctly assess the quality and reasonably decide to rent an office, many objective factors should be taken into consideration. Besides, you should consider whether the building you choose meets your needs. Let's say, Building A is cheaper than Building B, but Building A is not necessarily the best option for you.
Below are the criteria to effectively evaluate an office (applying for offices of the same segments and in the same district).
Location: This is the most important criterion for many tenants. It not only affects their travel but also affects the business images to customers or partners. No business owner wants to set their company in a small alley but has to pay the same rates as the price of renting a Building located on the main road.
Infrastructures and time put into operation: This relates to the safety and the fineness of a building. In other words, the building with a longer duration of use will be rated lower.
Utilities of the building: you should consider whether the basement, parking lot, shared space … meets your requirements The common problem tenants usually face is that cheap buildings usually don't have car parking space and narrow basement. So they have to rent a private parking lot or use public parking services. And there may be other unexpected costs incurred during the tenancy. Thus, if you are going to rent an office, remember to carefully consider these issues.
Arental.vn - the most prestigious property management and office rental company in HCMC.
Contact the Building Manager at 0904 667 858 for further information or assistance.

Our Agents

Đoàn Trọng Tuấn